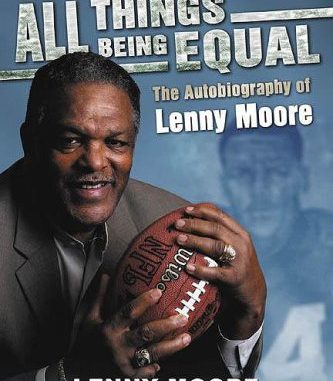 He played with a quiet confidence. Statistically, he had few peers. Even now, almost forty years after his first professional contest, his impressive body has withstood the test of time. He was Marshall Faulk before there was a Marshall Faulk. He could catch, he could run, he could block—he did everything. In his complete autobiography, All Things Being Equal, Hall of Fame running back Lenny Moore shares his entire story. Moore recounts many fascinating life experiences, beginning with his upbringing in a blue-color family of thirteen in Reading, Pennsylvania. He explores his standout, yet challenging time in Happy Valley playing for an already legendary coach in Penn State's Rip Engle, and one in-training—Joe Paterno. He also delves into his professional football career with the Baltimore Colts that saw him reach new heights as the MVP of the NFL in 1964. Throughout his amateur and professional career, Moore's toughest competitor was often racism, which battled Moore tooth for tooth. But, as Moore would learn, life would pose other significant battles once his spikes were hung up.Other immortals who played with him—like Johnny Unitas, Gino Marchetti, and Raymond Berry—would easily transition into life after football. Some became businessmen; others carved a new career path as coaches or general managers—but not Moore. In great detail, he describes his difficulties in shifting from having fame and notoriety to not being able to find employment in the town in which he was once celebrated. But Moore eventually found his calling, working with troubled Maryland juveniles, and establishing the Leslie Moore Scholarship Foundation benefiting underprivileged youths. Today, he also works toward finding a cure for Scleroderma, after his son passed away of the disease in 2001. Ultimately, All Things Being Equal is the touching journey of one man's self-discovery that, unfortunately, all things are seldom equal.
About the Authors
Lenny Moore distinguished himself on the gridiron in the 1950s and 1960s playing at Penn State and with the Baltimore Colts. He won numerous awards including Rookie of the Year (1956), Most Valuable Player, and Comeback Player of the Year (1964). He was a seven-time All-Pro selection and member of two League Champions (1958 and 1959), and was inducted into the Pro Football Hall of Fame (1975). Currently working as a Program Specialist in the Education Department for the Maryland State Department of Juvenile Justice, Moore and his wife Edie live in Randallstown, Maryland. He recently founded the Leslie Moore Scholarship Foundation and devotes time to the National Scleroderma Foundation. This is his first book.
Jeff Ellish resides with his wife Cortney in Phoenix, Arizona. This is his second published work. Previously, he was the editor of the New York Daily News' history of the New York Rangers, titledMillenium Memories.