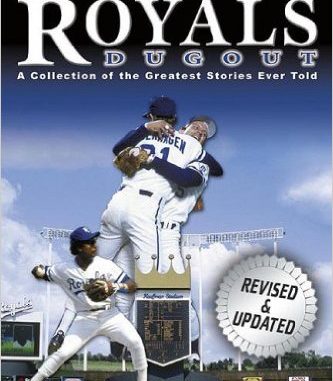 Denny Matthews with Matt Fulks
George Brett, Amos Otis, Frank White, Hal McRae, Dan Quisenberry, Bret Saberhagen, Paul Splittorff – one mention of any of those names can bring about visions of great baseball, hard-nosed determination, and winning. However, one vision outweighs all others – the boys in blue, the Kansas City Royals. An American League expansion club in 1969, the Royals struggled during their early existence. It did not take long, however, before the team established itself as one of the most successful franchises in baseball. The Royals´ success culminated when they won the 1985 World Series.
Since 1969 the Kansas City Royals have developed many great players who have had a lot of fun on and off the field. Along the way they have also developed a winning tradition. Although the team has received the "small market" tag in recent years, the organization still boasts a proud heritage. In the updated softcover edition of Denny Matthews's Tales from the Royals Dugout, the team´s longtime radio broadcaster relives the club´s greatest moments and proud tradition. Fans are invited to sit back and enjoy never-before-told anecdotes, including tales from the team´s great rivalries with the New York Yankees and Oakland A´s, and the remarkable players who have helped form the legend of the Kansas City Royals.
About the Authors
Denny Matthews has been a member of the Kansas City Royals radio broadcasting crew since Day One. In his 35+ years with the team he has seen plenty, and is anxious to share his fond memories and humorous anecdotes in this book.
Matt Fulks is a freelance writer, editor, and author. He is a regular contributor to various publications, including The Kansas City Star, and is the author or co-author of seven other books, includingTales from the Oakland Raiders, co-authored with legendary NFL coach Tom Flores, and The Road to Canton, with NFL Hall of Fame running back Marcus Allen. Fulks lives in the Kansas City area with his wife and two children.