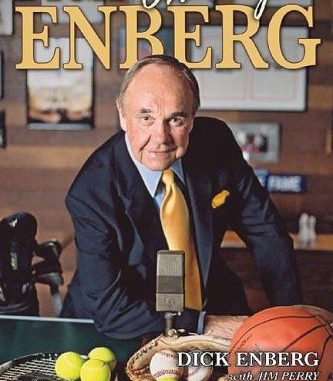 What does a play-by-play announcer do when he loses his voice during a basketball telecast? If you are Dick Enberg, suffering from a cold with a voice reduced to croaks and whispers as you try to call your fourth game in two days, you turn to your broadcast partner, the eccentric Al McGuire, during a commercial and ask him to take over. You have never missed a game, but your voice is nearly gone, and you fear the squawking sound that is left must be driving viewers crazy. You get no sympathy from McGuire, however. He shakes his head at your plea. "Dicksie," he says, "if you're goin', I'm goin'." So you have no choice. You finish the game. In 50 years of broadcasting, it is the only time that Enberg has come close to missing even one minute of a broadcast.
A tireless worker whose boyish enthusiasm for sports has never diminished, he is the most versatile sportscaster in America. He has called everything from baseball to tennis in a career that has taken him not only all over the country, but also all over the world. Since he first walked into a radio station to apply for the job of janitor (and wound up on the air), Enberg has called football games in weather so frigid that his coffee froze before he could drink it, been challenged to a fight by an irate baseball player, led the Notre Dame band in a rendition of "The 1812 Overture," and been threatened with ejection at Wimbledon because he was shouting too loudly into his microphone.
Those stories and hundreds more are told in Dick Enberg, Oh My!, with wit and candor, as Enberg not only relives some of sport's greatest moments, but takes readers into the booth and behind the camera. "Sportscasting is a kid's dream come true," he says, "which is one of the reasons that I keep doing it. I can't let my dream go. I'm still in love with what I do."
Dick Enberg, Oh My! also includes an in-depth interview with Dick Enberg that will take readers Beyond the Book. This very candid, personal interview will give fans even more insight into Dick's life. Highlights from the DVD include hilarious stories about some of the biggest names in the history of sports. This is a true must-see.
About the Authors
Dick Enberg's ambition as a boy was to be an outstanding athlete. He instead became an outstanding sportscaster. Since he first walked into a radio station in Mount Pleasant, Michigan, in 1955, Enberg has been one of the most versatile broadcasters in the country. Before signing with CBS in 2000 he spent 25 years at NBC, where he was known informally as "NBC's Decathlete." In his long and colorful career he has announced NFL and college football, NBA and college basketball, baseball, golf, tennis, boxing, figure skating, gymnastics, horse racing, and track and field. He has won 13 Emmy awards as a sportscaster, writer, and producer and nine national Sportscaster of the Year awards. He has called just about every major sports event, including the Super Bowl, the World Series, the Olympics, NCAA basketball finals, the Breeders' Cup, Wimbledon, and golf's U.S. Open and Ryder Cup. Besides his love of sports and his love of family—he has six children—Enberg has a deep and abiding love for education. Holding a doctorate in health education, he was an assistant professor at San Fernando Valley State College (now Cal State Northridge) before becoming a full-time sportscaster in 1965. He has served as spokesman for the CoSIDA Academic All-America program since 1985. He has also written Dick Enberg's Humorous Quotes for All Occasions, a book that was published in 2000.
Jim Perry first met Dick Enberg in 1967 when he served as his sports producer at KTLA-TV in Hollywood. Besides his work at KTLA, Perry has spent 40 years as a sportswriter, broadcaster, and athletic administrator, including 10 years as sports information director at USC, where he produced two Heisman Trophy winners (Charles White and Marcus Allen), one Lombardi Award winner (Brad Budde), and 29 first-team All-Americans. He has also been a college football commentator for radio and television, the sports editor of the Los Angeles Herald-Examiner, and a writer-editor for NFL Properties. This is his second book.