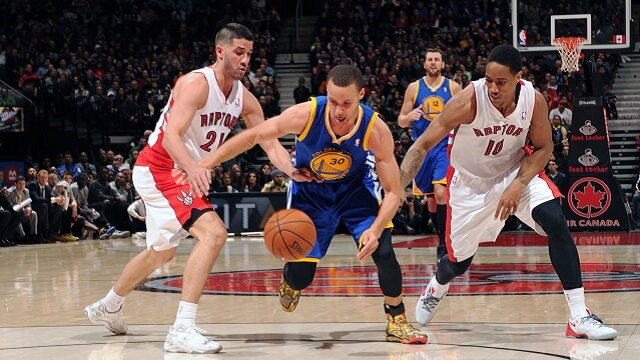 1st of October was the date NBA fans waited for so long. The NBA preseason was opened, and it will end on 21 October. The regular season starts on 25 October. Until then we're up to see very exciting basketball games.
The preseason was opened by Golden State Warriors vs Toronto Raptors, game in which Kevin Durant played first time for the Warriors. Unfortunately for the Warriors the fact that they have superstar player Kevin Durant doesn't automatically mean that they are the best team in the NBA. Hence the game was won by Toronto with a score of 97 points to 93. It was a very good game, anyone must admit it, and the game highlights below will definitely show this.
However, the second game Golden State Warriors played in the preseason was against Los Angeles Clippers, on 4th of October. This game though was won by the Warriors with an impressive score of 120 points to 75. This was a fantastic game that met every expectation of the Warriors' fans. Almost every player in the team scored against the Clippers, Durant made great scoring team with Thompson, together managing to score 42 points in the first half.
Next game on the preseason will feature Golden State Warriors against Sacramento Kings, on 6 October. Kings lost their first preseason game against Lakers, and the current performance of the Warriors shows that it is fairly possible they will be successful against the Kings. On 15 October on T-Mobile Arena, the Warriors will meet the Lakers who won from the Kings.
On 14 October the Warriors will play against Denver Nuggets who won from the Raptors a pretty tight game with only 2 point difference, 108 to 106.
On 25 October, the first regular season games will start with the Warriors to play against San Antonio Spurs on ORACLE Arena.
ESPN released their weekly NBA Power Rankings which are interesting to see. Today Golden State Warriors is ranked number 2, under last year's champion Cleveland Cavaliers. We will see how the rankings together with the team will evolve.