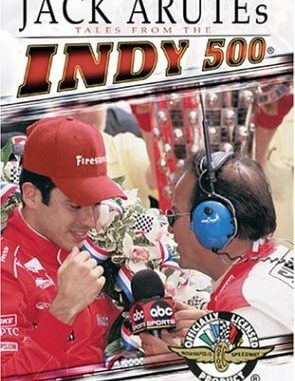 Jack Arute with Jenna Fryer, Foreword by A.J. Foyt
"…virtually impossible to put down whether you are reliving the memories or experiencing the recent history for the first time." –The News-Gazette (Champaign, IL)
Jack Arute was a fresh-faced 18-year-old just out of high school when he made his first trip to the Indianapolis Motor Speedway. As a graduation present from his father, the two set out for the 1969 Indianapolis 500. When he walked through the gates for the first time it was everything he thought it would be: Gasoline Alley in front of him and the "Yellow Shirts" blaring on their whistles to clear the way for the drivers passing through.
Arute soaked it all in and took a hundred pictures, realizing that day just how special Indy was and how he wanted to somehow be a part of it. He eventually made that dream come true through his job as a pit reporter for ABC Sports. From his initial fear of approaching A.J. Foyt in the garage as a cub reporter to waiting out Gil de Ferran´s tears after he won the 87th running of the race, "Jackie" has seen it all. He now relates all of his greatest, funniest, and most meaningful stories in the updated softcover edition ofJack Arute´s Tales from the Indy 500.
About the Authors
Jack Arute is the top pit reporter for ABC Sports and has covered motorsports for them since 1984. A five-time recipient of the American Auto Racing Writers and Broadcasters Association Award for Television, including AARWBA´s 2002 award for Best Radio and Best Television Presentation, he has also been cited for his TV work by the National Motorsports Press Association, receiving their Broadcaster of the Year Award in 1988. In his spare time, Arute competes in sprint car races, as well as serving as president of his family´s NASCAR racetrack, the Stafford (Connecticut) Motor Speedway. He and his wife Wendy reside on a horse farm in Suffield, Connecticut, that was built in 1764.
Jenna Fryer grew up in New Jersey rooting for the New York Yankees and reading biographies of her favorite players. As a journalism major at West Virginia University she covered Mountaineers football for the student newspaper. Since graduating in 1996 she has covered a range of sports and teams, from Southeastern Conference football in Alabama to the high speeds of racing in Charlotte, North Carolina, where she currently resides. She attended her first Indianapolis 500 in 2003.