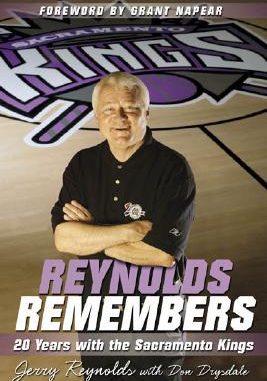 Jerry Reynolds was country before country was cool. He also was part of the Sacramento Kings before that was cool. The Kings are celebrating their 20th season in California's capital, and Jerry has been there from the start. Quietly, he has been instrumental in the team's growth from a shoestring operation that couldn't compete to a model NBA franchise that is always on the short list of title contenders. He has been a first-hand witness of the league's evolution from Bird and Magic, to Jordan, to LeBron and Yao Ming.
Jerry Reynolds has been a human Swiss Army Knife—serving the Kings as a scout, assistant coach, head coach, player personnel director, general manager, and television analyst. Because he has held so many positions in the Kings' front office the last two decades, Jerry has a unique perspective on how the Kings have evolved. For those who've been on the Kings bandwagon only the last few years, it wasn't always C-Webb, Peja, and Bibby. Jerry remembers the hollow feeling of putting a CBA-quality lineup on the floor for an exhibition game against the Lakers: Set for the tip-off, Kareem Abdul-Jabbar and…Randy Allen? He remembers being left to explain the Kings' latest defeat to the media while Bill Russell snuck out the side door. But there were victories, too. He also still has a spark in his eye from trading draft rights to Billy Owen for superstar Mitch Richmond. Whether the Kings were stuck in the mud or winning 50-plus games, Jerry Reynolds remained the same—colorful, outspoken, engaging, and insightful.
About the Authors
In his twentieth season as part of the Sacramento Kings, Jerry Reynolds serves as the director of player personnel as well as television analyst. A longtime college coach, Jerry joined the team's staff when the Kings moved from Kansas City to Sacramento in 1985 as an assistant coach to Phil Johnson. After coaching the team himself for a year, he served as an assistant to Bill Russell. He replaced Russell as head coach before moving into the Kings' front office in 1988. Jerry also served as general manager of the WNBA Sacramento Monarchs for six seasons. In other words, he has done it all in pro basketball. Jerry and his wife, Dodie, reside in Roseville, California. They have a son, Jay, and a daughter, Danielle.
An award-winning sports writer, Don Drysdale covered the Sacramento Kings from their arrival in Sacramento in 1985 until 1994 for the Sacramento Union. He also worked for the Marin Independent Journal and the Oakland Tribune and has written about basketball for numerous magazines. He lives in Sacramento with his wife Liz, son Donald, and daughter Cassie.