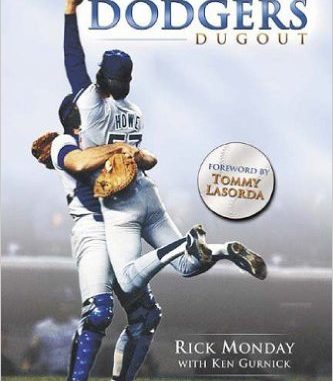 Rick Monday with Ken Gurnick
It took something truly remarkable to save the 1981 Major League Baseball season from being remembered only as the year of the players´ strike. It took the Los Angeles Dodgers – "Fernandomania," ´Sorda, Garv, Bake, and the Penguin. It took three amazing October comebacks to beat the Houston Astros, the Montreal Expos and, finally, the New York Yankees, avenging Dodger World Series losses to the Yankees in 1977 and 1978.
Rick Monday was right in the middle of that magical 1981 Dodger season when Rookie of the Year Fernando Valenzuela and his Cy Young Award-winning pitching powered the team to the world championship. Monday did his part to be heroic, as well, when his two-out, ninth inning home run in the deciding Game Five against the Expos gave the Dodgers the National League pennant. His recollections and conversations with teammates in Rick Monday´s Tales from the Dodgers Dugout provide a unique behind-the-scenes view of one of the most amazing teams and seasons in baseball history.
Rick Monday, a veteran of 19 major league seasons as an outfielder, was the first player taken in baseball´s inaugural amateur draft in 1965. He went on to play six seasons with Kansas City and the Oakland A´s, five seasons with the Chicago Cubs, and eight with the Los Angeles Dodgers. Monday was a two-time All-Star and hit 241 home runs during his career. He resides during the off-season in Vero Beach, Florida.
Ken Gurnick has been a baseball beat writer since 1982. He covered the National Football League for the Los Angeles Daily News, the Dodgers for theLos Angeles Herald Examiner, and currently reports on the Dodgers forDodgers.com and MLB.com. He resides in Oak Park, California.