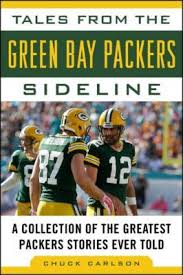 There are probably as many stories from the Green Bay Packers sideline as there are fans of one of the country's most storied sports franchises. That's whatTales from the Packers Sideline is all about.
Since the earliest days of professional football, the Packers have been as much a part of the game as the ball itself-from Curly Lambeau to Johnny "Blood" McNally; from Bart Starr to Ray Nitschke; from the Ice Bowl to Vince Lombardi to Mike Holmgren and Brett Favre. Some of the stories will feel as familiar and comfortable as tailgating at Lambeau Field on a gorgeous October morning. Others will be new to even the most avid Packers fan. But hopefully, all will bring back special memories and reveal a part of what makes the Green Bay Packers more than just a football team.
This is a franchise that has grown up with the country, and everyone has a favorite Packers story. From odd pregame rituals to controversial coaching decisions to strange players to the details behind what made a great game a truly great game, the stories are there to be told-and Tales from the Packers Sidelinedoes just that.
About the Author
Chuck Carlson has been an award-winning sports journalist for three decades, working at newspapers in Maryland, Virginia, Washington, Illinois, Wisconsin, and Nevada. For 10 years, he primarily covered the Green Bay Packers, along with University of Wisconsin sports, for the Post-Crescent in Appleton, Wisconsin.
Chuck also wrote Titletown Again, the official book of the Packers' 1996 Super Bowl season, and The Green Bay Packers Pocket Primer. He also served as editor ofThe Packers, the official 75th anniversary book of the Packers. His other books include a biography on baseball Hall of Famer Kirby Puckett, a 25th anniversary celebration of the Milwaukee Brewers, and a humorous look at golf calledMulligans For All.
Chuck is currently sports editor at theReno Gazette-Journal in Reno, Nevada.